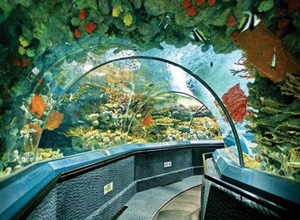 Shanghai Ocean Aquarium (SOA; Chinese: 上海海洋水族馆) is the biggest aquarium in Shanghai and one of the most beautiful ones in the world. It features a 120-meter tunnel that takes visitors through a coastal reef, open ocean, a kelp cave, shark cove, and a coral reef, and is one of the longest such tunnels in the world. It is located just next to the Oriental Pearl Tower in Shanghai's Lujiazui Financial & Trade Zone of Pudong District.
SOA is divided into 9 different thematic zones, with a collection of more than 450 species of aquatic animals from the five continents and four oceans. The zones are divided by regions. It begins from the Yangtze River in China, then on to the mysterious flooded forest of the Amazon in South America, next, the mangroves and billabongs of Australia, then the rivers of Africa before arriving at the rainforests of Southeast Asia. Brave the cold as you go through the icy waters of the Antarctic.The last leg takes you from the sandy shores to the depths of the ocean. The main highlights from these various zones include the Chinese sturgeon, Giant Salamander, Electric Eels, Spotted seals, Weedy Seadragons, Jellyfish, Sand Tiger Sharks, and many more.
Admission: 160 RMB
Opening Hours: 09:00-18:00
Got a question? Ask us here. We will reply to you within 12 hours.