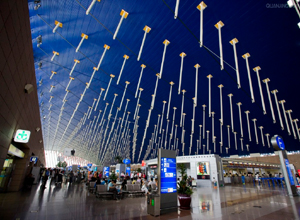 Shanghai Pudong International Airport (IATA: PVG; Chinese: 上海浦东国际机场) is the primary international airport serving Shanghai, and a major aviation hub for Asia. The city's other airport, Hongqiao, mainly serves domestic flights. Pudong Airport is located in Pudong New District, about 30 km east of the city center and about 40 km from Hongqiao Airport. It is the busiest international hub of mainland China and ranks 22nd in the world in terms of international traffic. About half of its total passenger traffic is international.
Two Terminals
Currently Pudong Airport has two passenger terminals;a third passenger terminal is planned for 2015. There are shuttles between T1 (Domestic Departure Gate 1 and International Departure Gate 8)  and T2 (Domestic Departure Gate 23 and International Departure Gate 27) from 6:00-24:00 at an internal of 10 minutes.
Airlines in Termianal 1: Sichuan Airlines (3U), Mandarin Airlines (AE), Hainan Airlines (HU), Korean Air (KE), Royal Dutch Airlines (KL), Air France (AF), China Airlines (CI), Juneyao Airlines (HO), Spring Airlines (9C), Japan Airlines (JL), Gulf Air (GF), China Eastern Airlines (MU), Tianjin Airlines (GS), China Express Airlines (G5).
Airlines in Termianal 2: Emirates Airlines(EK),TransAsia Airways(GE), Dragonair(KA), Qatar Airways(QR), Northwestern Air(NW), Swissair(LX), Turkish Airlines(TK), Garuda Indonesia(GA), Air Macau(NX), Finnair(AY), Airchina(CA), Uni Air(B7), United Airlines(UA), Shandong Air(SC), Hong Kong Airlines(UO), British Airways(BA), Qantas(QF), Philippine Airlines(PR), Cathay Pacific(CX), Malaysia Airlines(MH), Aero Mexico(AM), Shanghai Airlines(FM), Singapore Air(SQ), Virgin Atlantic(VS), Eva Air(BR), Aeroflot(SU), Asiana Airlines(OZ), Continental Airlines(CO), China Southern Airlines(CZ), Cebu Pacific Air(5J), Air New Zealand(NZ), Chongqing Airlines(OQ), Delta(DL), Lufthansa(LH), Air Canada(AC), American Airlines(AA), All Nippon Airways(NH),Thai Airways(TG), Air India Express(AI), Hong Kong Airlines(HX), Shenzhen Air(ZH), Etihad Airways(EY), Scandinavian Airlines(SK).
Ground Transportation
By Maglev
Shanghai Maglev Train links Pudong International Airport with Longyang Road Metro Station, where transfer to Metro Line 2 or Line 7 is possible. The 30-km ride typically takes less than eight minutes. Trains operate every 15 minutes. A standard single-ride ticket costs 50 RMB and 80 RMB round-trip within 7 days.  First-class tickets cost 100 RMB (single) or 180 RMB (round-trip). Passengers with intraday flight ticket can get a discounted price of 40RMB for a single ride. All cars are equipped with racks and space designated for luggage.
By Metro Line 2
Shanghai Metro Line 2 also provides service between Pudong International Airport and Longyang Road. It is also a busy line connecting Shanghai's Pudong area and Puxi area, such as Lujiazui, People's Square, and also Hongqiao International Airport, Shanghai's primary domestic airport. Prices are substantially lower than the Maglev (¥6 from Pudong International Airport to Longyang Road and Lujiazui, ¥7 to People's Square, ¥8 to Hongqiao International Airport). However, trips take longer due to lower speed of trains. A ride to People's Square, the city centre,  or to Hongqiao Airport takes more than one hour. In addition, not all trains go to Hongqiao International Airport.
By Taxi
A taxi costs around CNY 150 from Pudong International Airport to People's Square, the center of the city. The ride takes about 50 minutes.
By Airport Buses
10 Airport Bus lines serve Pudong International Airport, providing rapid links to various destinations. Buses operate on a 10-to-45 minute basis. Fares range from 2 to 30 RMB depending on distance travelled. Late night line is inlcuded, everyday from 23:00 (Terminal 1) or 23:05 (Terminal 2) until 45 mins after flights finish.
Got a question? Ask us here. We will reply to you within 12 hours.