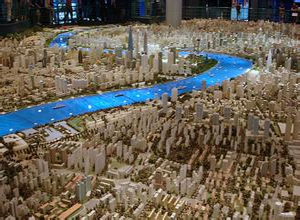 Shanghai Urban Planning Exhibition Center (Chinese: 上海城市规划展示馆) is located on People's Square, the city center of Shanghai. It is one of the most popular tourist attractions of People's Square. The centerpiece exhibition is a highlight. It is a huge scale model of the city of Shanghai, showing all its existing buildings and streets downtown.
Shanghai Urban Planning Exhibition Center was open to the public in 2000. Themed on "City, Citizens, Environment, and Development", the Center displays the past, present and future of Shanghai by traditional and modern displaying means. It is regarded as the "Window of the City" where people can better learn about Shanghai. The huge scale model of the city of Shanghai displays every building and corner of downtown Shanghai. Visitors can view the model from alongside or ascend to a gallery running around it for views from above. The center not only shows the latest information of urban development, but also shows Shanghai citizens' cultural and artistic cultivation. Over 100 such exhibitions have been held in the second floor exhibition hall.
There is also a small demonstration hall housing a 360° screen. The room plays a video that guides you to the main Shanghai attractions in a vivid way.
Admission: 30 RMB
Opening Hours: 09:00-17:00
Got a question? Ask us here. We will reply to you within 12 hours.