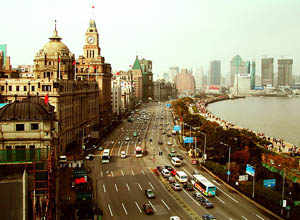 The Bund (Chinese:外滩) is a waterfront area by the west side of Huangpu River in central Shanghai and regarded as the symbol of Shanghai for hundreds of years. Traditionally, the Bund begins at Yan'an Road (formerly Edward VII Avenue) in the south and ends at Waibaidu Bridge in the north from the Waibaidu Bridge to Nanpu Bridge and winds 1500 meters in length. As the former Shanghai International Settlement, it features 52 colonial buildings of different architectural styles including Gothic, Baroque, Romanesque, Classicism and the Renaissance, offering quite impressive scenery along the Bund and Huangpu River.
Besides the architecture and buildings, the Bund features several sculptures. Near the Nanjing Road intersection stands a statue of Chen Yi, the first Communist mayor of Shanghai. It is currently the only bronze statue along the Bund. At the northern end of The Bund, along the riverfront, is Huangpu Park, in which is situated the Monument to the People's Heroes – a tall, abstract concrete tower which is a memorial for those who died during the revolutionary struggle of Shanghai dating back to the First Opium War. The other outstanding sculptures include the Ever Victorious Army Momument funded by Li Hongzhang, a late Qing Dynasty officer; the Statue of Hart, who had served as Secretary General of Chinese Customs up to 48 years; and the World War Monument, made to commemorate the soldiers who died in the World War I coming from Shanghai.
The night visit of the Bund is stongly suggested. It fully exhibits the magnificence of the classic buildings with the lighting system and make up of the best night scene of Shanghai together with the colorful lights floating in the river and flashing Pudong sights opposite. The Bund is also heaven for nightlife with a multi choice of restaurants, bars and clubs.
Got a question? Ask us here. We will reply to you within 12 hours.