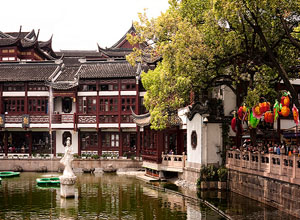 Yu Garden or Yuyuan Garden (Chinese: 豫园) is a famous Suzhou style classical garden in Shanghai and also a must when traveling to the city. It is located beside the City God Temple (Chenghuangmiao) and abuts the Yuyuan Market in the Old City of Shanghai. The garden is accessible from Yuyuan Garden Station of Shanghai Metro Line 10.
Yu Garden was first built in 1559 during the Ming Dynasty by a government officer called Pan Yunduan and was the largest and most prestigious of its era in Shanghai. It passed to different owers after the deline of the Pan family. The gardens suffered damage numerous times during the 19th century, such as by the British Army during the First Opium War, by the Small Swords Society during the Taiping Rebellion, and by the Japanese in 1942. The garden you see today is the result of a five year restoration project which began in 1956 by the Shanghai government. It was open to the public in 1961and declared a national monument in 1982 .
Today, Yu Garden occupies an area of 20,000 square meters (5 acres), and is divided into six general areas: Sansui Hall, Wanhua Chamber, Dianchun Hall, Huijing Hall, Yuhua Hall and the Inner Garden. Each area is separated from the others by "dragon walls" with undulating gray tiled ridges, each terminating in a dragon's head. A centerpiece is the Exquisite Jade Rock across the Yuhua Hall. The rock is 3.3 meters tall and has 72 holes. There is an interesting thing about the rock. If you pour water into the rock from top, the water will flow out from each hole. Similarly, when you burn a joss stick just below the rock, the smoke will magically float out from all of the holes.
Admission Fee: 40 RMB (Apr.1-Jun.30; Sep.1-Nov.30); 30 Rmb (Jul. 1-Aug.31; Dec.1-the next Mar.31).
Opeinging Hours: 08:30-17:00
Got a question? Ask us here. We will reply to you within 12 hours.