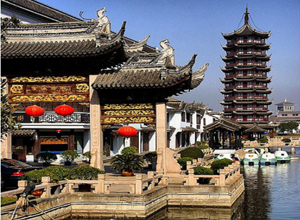 Zhouzhuang (Chinese: 周庄) is a water town in Jiangsu Porvince, China, about 30 km southeast of Suzhou and 60 km west of Shanghai. It is a popular tourist destination, classified as a AAAAA scenic area by the China National Tourism Administration. It is usually sightseed together with Suzhou as 1 day excursion tour from Shanghai.
Zhouzhuang is one of the most famous water townships in China, noted for its profound cultural background, the well preserved ancient residential houses and the elegant watery views. The town's history could be traced back to the Spring and Autumn Period (770BC-476 BC). Many historical sites remains. The most important are the Twin Bridges, Fuan Bridge, Shen House, Zhang House, Milou Tower, and Chengxu Taoist Temple. The Shen House was the private property of the descendant of Shen Wansan, the richest man of Jiangshan in the early Ming Dynasty. The most famous and delicious local food Wansan pork hock, is named after Shen Wansan.
Travelers in Shanghai can reach Zhouzhuang by taking bus from Shanghai South Long Distance Bus Station located near Shanghai South Railway Station.
Admission: 100RMB
Boat ride: 40RMB per head/100RMB per boat
Got a question? Ask us here. We will reply to you within 12 hours.