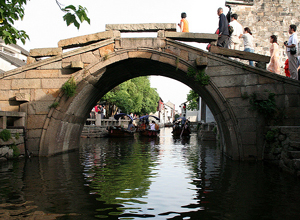 Zhujiajiao (Chinese: 朱家角) is an ancient water town located in the Qingpu District of Shanghai. The beautiful scenery has won it the reputation as 'oriental Venice'. It was established about 1,700 years ago and is the best-preserved among the ancient towns in Shanghai. The town boasts 36 old stone bridges, numerous small rivers an streams shaded by willow trees, and traditional courtyard houses. Zhujiajiao has become a popular excursion place when touring Shanghai.
The town prospered through clothing and rice business. Many hsitoric sites remains, such as rice shops, banks, spice stores and even a Qing dynasty post office. The main sites are Fangsheng Bridge, North Street, Kezhi Garden, and Yuanjin Buddhist Temple.
The local cuisine is worthy a try, particularly green soy beans, zarou, and lotus roots.
The town could be reached by taking tourism bus at Shanghai Stadium (Gate 5).
Got a question? Ask us here. We will reply to you within 12 hours.