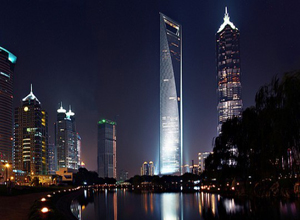 The Jin Mao Tower (Chinese: 金茂大厦), literally 'Golden Prosperity Building', is an 88-storey skyscraper in the Lujiazui area of Pudong District of Shanghai. With a height of 420.5 meters, it is the 2nd talllest in mainland China; the first is the Shanghai World Fianncial Center (492 m) which is next to the building. However, they will soon be surpassed by another neighbor-Shanghai Tower, which is still under construction and is to reach 128 storeys.
Jinmao Tower is a perfect combination of traditional Chinese architectural style and the world's modern architectural technology. The building has 3 main entrances to the lobby, two for the office portion and one for the the Grand Hyatt Hotel, which occupies floors 53 to 87 and one of the highest in the world. The Hyatt is famous for its barrel-vaulted atrium starting at the 56th floor and extends upwards to the 87th, quite elegent and impressive. On the 88th floor, it is the observation deck, a 1,520 m2 indoor observation deck with a capacity of 1,000+ people. In addition to the panoramic views of Shanghai, it offers a topside view of the hotel atrium below.
Jin Mao Tower is accessible from Lujiazui metro station, Line 2.
Admission Fee: 120 RMB
Opening Hours: 08:30-21:30
Got a question? Ask us here. We will reply to you within 12 hours.