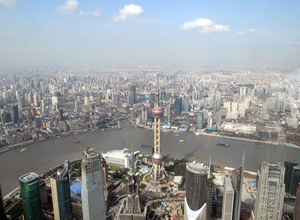 The Shanghai World Financial Center (SWFC; Chinese: 上海环球金融中心) is a supertall skyscraper standing in the center of Lujiazui Finance & Trade Zone in Pudong District of Shanghai. At 492 meters high, the tower is the second tallest in China, only second to the Taipei 101. It neighbors the other two distinct skycrapers-Shanghai Tower and Jinmao Tower, and together, they form the world's first adjacent grouping of three supertall skyscrapers. It is also outstanding in design, which got it many world awards. It was named by architects as the best skyscraper completed in 2008.
SWFC is a multi-functional building, consisting of offices, hotels, conference rooms, observation decks, and ground-floor shopping malls. Park Hyatt Shanghai occupies the 79th to the 93rd floors and becomes the second-highest hotel in the world. There are three oberservatories. Soaring 474 meters above the ground, the Sky Walk 100F provides a spectacular view of downtown Shanghai and the Huang Pu River below. Walking on the three transparent glass-walled walkways, visitors will experience the feeling that Shanghai lies at their . And from the 97F Sky Walk, like a bridge across the sky, visitors will feel as if they are floating in midair. The open design roofed with glass helps you take the fresh air, reach the blue sky and white cloud at ease, making you and the nature seem merging into one single body. The 94th floor Sky Arena, has a floor area of about 760 square meters with a clear ceiling height of 8 meters. It offers a breathtaking backdrop for exhibitions and events.
Admission Fee: 120 RMB (94 F), 150 RMB (94F+97F+100F)
Opening Hours: 08:00-23:00
Got a question? Ask us here. We will reply to you within 12 hours.